Together for charity was founded during spring 2011 by seven Swedish friends who all wanted to make a difference. We all have children ourselves and have understood how things we take for granted for our own children are often unimaginable for many children. 
We wanted to change the lives of children who are less fortunate, by changing our own behaviours in our daily lives. We also wanted to show others how fun and easy it can be to give a little or a lot to those with less. We wanted to find simple ways to contribute and then make them a part of our and many other people's lives.
Together for charity works for less fortunate children in Asia and beyond. We are currently supporting three fantastic projects – the English School of Mui Ne, Vietnam, Luang Prabang Orphanages in Laos and the Bread of Life Education Centre in northern Lebanon.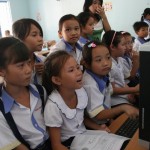 We decided to choose our projects based on four criteria:
Based in Asia and beyond, as we have a strong relationship to the region.

Support children, as we find that they need most help.

Involve Education, as in our opinion that this is an important way out of poverty.

Run by someone with strong commitment to their project and who we can trust.
Since we will focus on fundraising, and will not be able to visit often, we need someone that we trust to run the projects. We firmly believe that the strength of our small non-profit organization is that it is based on personal relationships, both between ourselves and towards the beneficiaries.
We donate 100% (minus bank and PayPal fees) of all donations straight to the projects.
Thank you for showing interest in together for charity! We hope you will get inspired to donate and perhaps also get involved! If you would like to join us or just receive more information, please send an e-mail to: info@togetherforcharity.se.